Mantra 4: Today has merit.
For when you're feeling past your prime.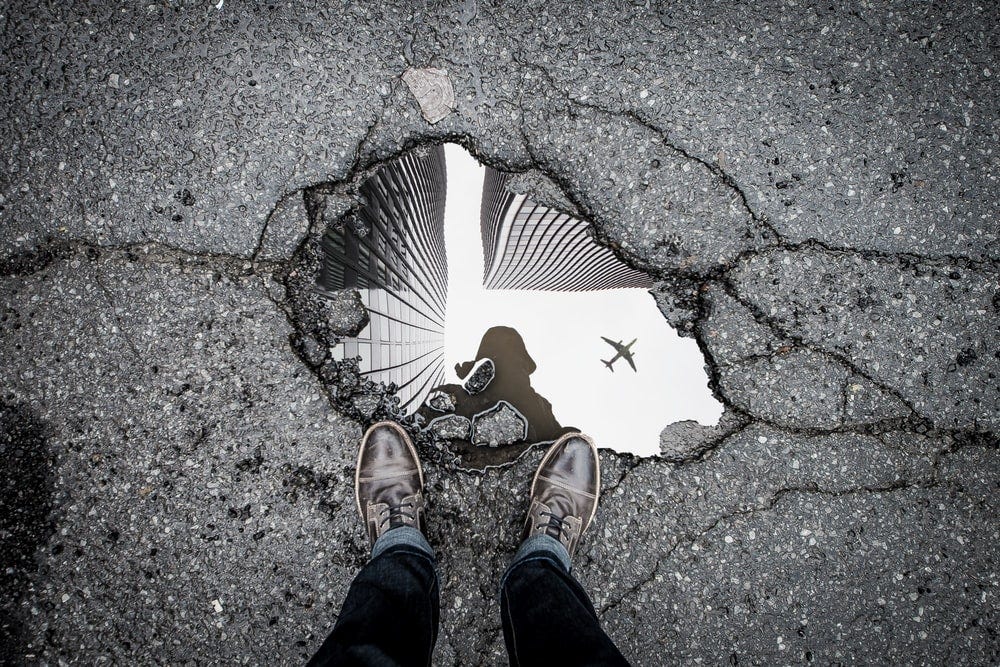 I turned 30 years old this past week.
The jokes from my friends, family, and coworkers were as expected as they were obvious. "Better schedule that hip replacement grandpa, because you're finally an old man."
I'll be the first to make those jokes. Truth be told, I was looking forward to turning 30. I know there's no magical age where you finally get your life together, but I was happy to leave the turbulence of one decade for the challenges of a new one.
Whether you turn 30, 40, 50, or 60, milestone birthdays undoubtedly come with a degree of reflection. I lost myself in thought about what this decade of my life might bring. Will I make the jump to senior level management? Will I meet that lady of my dreams and split a gigantic wedding bill with her? Will I write something that sets the world on fire? What will my 30s look like compared to my 20s.
The coolest sports-related experience I had in my 20s was the Carolina Panthers' 2015 15-1 season. We ran the score up on our opponents, Cam Newton won an MVP award, and we made a Super Bowl appearance that lit this whole city in blue for two weeks. Of course, that season ended in a heartbreaking loss to the Denver Broncos. After that game I tweeted "Thank you, Panthers, for giving me the most fun I've ever had a football fan."
Five years later, it's still the most fun I've had as a football fan. Beginning the year after, the Panthers fell apart in a way we still haven't fully recovered from. We've now lost just about everyone who made that 2015 run special, including the coaching staff.
Sometimes I wonder if that's as good as it gets. Some teams will never have a season that good. 15 wins, an MVP award, and an appearance in the biggest game of the year? That's pretty special. But there's still so much more I want from the team. I want a Super Bowl title. I want sustained success. I worry though that through this decade and the next few, I'll find myself an old man sitting in my rocker reminiscing about how great the 2015 Panthers were while my grandkids do kick flips on their hover skateboards.
I don't only worry about that with the Panthers. I worry about it in my own life from every angle you could imagine. As the days pile up in my rearview mirror, and the ones in front of me start to countdown, it's difficult not to wonder if I'm on the other side of the best parts of my life.
Chief among my existential fears is the notion that I've peaked, that I've done as good as I'm going to do, that my best days are behind me.
First, let me be shallow about it.
My 30th birthday party went from bad to worse to non-existent. It started with me being too busy at work to plan anything. Then, I settled on a somewhat last minute plan I wasn't excited about. After many of my closest friends said they couldn't RSVP, I cancelled it and started planning smaller gatherings for that week. COVID-19 had other plans and before I could set new times, all bars and restaurants were closed.
My 29th birthday party in comparison was a rager with a booked venue, my own themed playlist, a roast, donuts that spelled out my name, and free PBR for everyone at the door.
What if 29 was my best birthday party ever? What if I can never top it? What if I'll never have that much disposable income, that many friends with available schedules, and that much energy? What if each birthday party from now on involves me thinking, "This is alright, but it's nothing compared to my 29th."
But the fears don't just stop at my ability to crush brews or party until 2 AM. They go deeper.
I'm currently working on selling my house. My charming starter home in Plaza Midwood was purchased because I believed myself and the co-owner would be married by now. There's an empty guest room I have to stage with Ross decorations for real estate photos. I thought my first child would live there.
What if that was my best chance at marriage? What if it was my one chance at a family? What if that dissolution has left so much damage in its wake, I'll never be able to get hopeful enough to risk it again?
I have a lot of fears about peaking at work. I'm thoughtful about my moves in an office, always worrying about how I might be pigeonholed if I'm too good at one thing, or how I might be boxed out of opportunities if I don't immediately give a yes to each request. I constantly think about my professional momentum, and I panic if I feel as if it's stalled.
These are rattling thoughts, things that shake you deeply.
What if your college friends you've grown apart from are the best friends you'll ever have?
What if that trip to Greece for your honeymoon is the best vacation you'll ever be able to afford to take your wife on?
What if the time you spent with your daughter when she was younger is the closest you'll ever be to her, especially now that she's a teenager and you're not nearly as funny as the dads on TikTok?
What if the business you started already had its best year ever and it's all downhill from here?
The scariest part about all of this is that it could be true. When viewed as a measurable, your life must inherently have peaks and valleys, and one peak has to rise above all the others. I won't sugar coat it. It's totally possible you'll never have a better vacation, or a nicer house, or a higher tax bracket, or a closer relationship with your kids.
That's why the only way to win is to stop measuring.
An ex-girlfriend once told me the difference between how men evaluate partners and how women evaluate partners is that women strive to see the whole person, whereas men mathematically add up parts.
I don't know if that's true, but it makes sense to me. It would explain why my friends who are women have an easier time looking past glaring red flags, and why my friends who are men have a host of nonsense disqualifiers for their partners.
Men tend to think in quantities. More = better. That's why the old 90s sitcom stereotype of the man loving The Big Game® while his wife loves The Ballet® exists. Ballet requires context, nuance, evaluation, extrapolation. Sports are simpler: the person with the most points wins, the person with the most wins is champion.
Men approach our lives the same way.
The best job is the one with the biggest salary.
The best father is the one whose kid has the highest grades, or the one who makes it out to the most youth soccer matches.
The best guy in the company is the one who manages the biggest account.
The best husband is the one who drops the most money on the anniversary gifts, or the one who remembers the most little details that are important to his wife.
Not to say the women I know never think these things, but I don't think they stake their self-worth on them with quite the same intensity my male friends do.
I actually think it's a source of conflict between men and women. I've found myself unable to understand why a romantic partner was so mad at me for forgetting her favorite movie. What about the other nine things I remembered? That's 90%! That's an A. I might not be able to understand that she just hates repeating herself, or that contextually she had an ex who mocked her tastes. I'm just concerned with my stats.
It's a trap we have to get out of. I think men's competitiveness is one of the best things about us, but not like this.
So many men are competing against the guy in the mirror, and the prize on the line is basic self-worth. We need to learn that loving ourselves isn't a championship belt we win by pinning past versions of ourselves.
I'm learning that I can't convince myself I'm a better writer by getting higher pageviews. Even if I can top my last article four, five, or six times in a row, there will come a time when my writing will have to stand on its own merit, not the merit of doing better than something from yesterday.
I'm trying to carry that into my 30s.
The quality of my friendships now shouldn't be measured by the quality of friendships I had in my 20s.
The potential of my next partner shouldn't be judged against what went wrong in my last relationship.
Because one day the Panthers are going to win that Super Bowl. How crazy would it be if I was bummed out because they didn't get 15 wins or didn't have the league MVP? That Super Bowl winning season will be special, just like the 2015 season was special. They'll both be unique experiences that are valid and worthy to be loved all on their own.
Today will be like that too, full of unique experiences with their own validity that exists totally separate of yesterday and tomorrow. And that makes every day worth living.
Mantra: Take 60 seconds to close your eyes and repeat this phrase: "Today has merit."