Mantra 3: I'm making good time
For when you're having trouble prioritizing.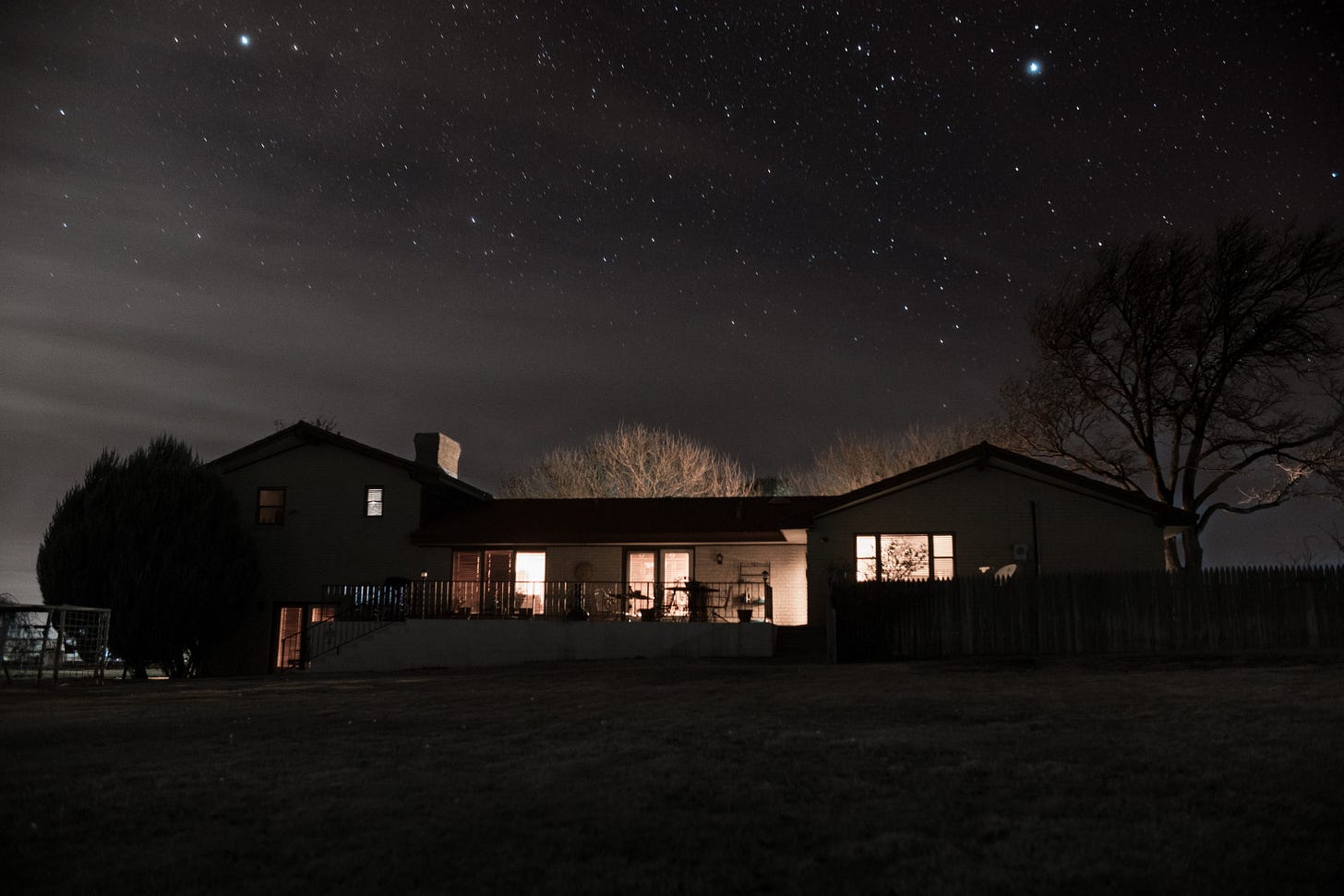 A typical Friday night for me involves going through a series of shame spirals.
That sounds a lot more dramatic than it is. Maybe they're more like miniature shame pendulums. They revolve around three key things:
What I want to do.

What I need to do.

What I can't do.
I'll give you an example.
This past Friday night I was in the mood to go to my favorite dive bar with some friends, have a few craft beers, eat some greasy chicken fingers, and yell about whether or not the Panthers should keep Cam Newton.
That's what I wanted to do. It's not always that, of course. Some weeks I want to throw my comforter on my couch and watch Star Trek Voyager on Netflix until I fall asleep. Other weeks I want to write a few thousand words of a novel I've been working on. You might want to spend your Friday evenings taking your wife out for a $200 meal, or starting that tradition of reading Harry Potter to your kids before bed that sounded so cute when your buddy told you how close it's made him and his kids.
But then #1 always cycle against #2: What I need to do.
I need to make a new budget. My old one is really just some vague notes written on a legal pad currently buried somewhere in my backpack. I'll be selling my house in the next year, plus I just started a new job, and I've got some dental work coming up in the next few months.
Oh, and then there's my waistline. I really need to get a nutrition plan together. I'm thinking it should be a mix of yoga (need to put together a list of classes that work for my schedule), cardio (need to research which exercises have the lowest impact on my bad left knee), and a revised meal plan (need to grab a new vegetable dicer on Amazon).
Just like my wants, my needs change from week to week and day to day.
But #3 never changes. The thing I can't do? All of it at once.
If I hit the bar with my friends, I'll feel like a fiscally irresponsible man-child for not staying home and budgeting. If I stay home and budget, I'll feel like an anti-social grandpa for not hitting the bar with my friends.
I can see this carrying over into the next phases of my life. I'm just the kind of guy. I bet I'll spend an entire evening putting together an IKEA TV stand for my wife, and then feel like a bad father because I didn't help my fourth grader with her long division homework. The next week, I'll dunk on that long division, but then I'll feel like a bad husband for not helping my wife with dinner. The week after, I'll leave work early to have time to do both, and spend the evening thinking about how I could've finished a big proposal if I'd just stayed at work later.
I think there's a misconception that shame happens between what we want to do and what we need to do. I actually experience more shame between what I can do and what I can't do.
I think I've even figured out why that happens.
A literature professor I had in college told me that the difference between a comedy and a tragedy is time. Shakespeare's most enduring comedy, A Midsummer Night's Dream, and his most enduring tragedy, Romeo and Juliet, are both about star-crossed lovers who defy their families and run away with each other. The difference is Hermia and Lysander have time to solve their problem and live happily ever after. Romeo and Juliet meet a bloody end under crunch time.
My Friday nights are the same way. I'd love to be able to stay at work late to throw together a fresh marketing campaign, get home to write a brand new personal budget, run three miles, cook a healthy dinner, hang out with my friends at the bar, write a restaurant review, write a newsletter, play some guitar, and go on a date. But that would require a 14 hour night, and I've only got 4-5 hours.
It's simple math. The vast majority of what I want to do and need to do will go undone. This is a supremely lopsided success to failure ratio.
I sometimes feel like I know what I want being a man to feel like, and I know what being a man needs to look like, but I can't work out how to fit it all into a day. Or even a week. Hell, sometimes I wonder if I can even do it all in my lifetime. I'm supposed to get an amazing job, marry my soulmate, raise a couple of successful kids, retire with enough in savings to pass on to them, and somewhere in there learn how to properly tie a tie?
That's when the anxiety starts to set in. Am I doing enough? Am I moving fast enough? How much time am I wasting? Am I busy on the wrong things? What am I missing out on? In 10 years will I regret what I'm spending time on now? Am I being a man I can look back on proudly?
That's a lot of questions for a Friday night when all I wanted was some chicken fingers.
When looking ahead gives me existential dread, I try looking backward.
I think back to the third Friday night of March in 2013. Remember that day? Of course you don't. Neither do I. That's because most days are unremarkable.
It works for money too. Do you remember the most expensive meal you bought in August of 2016? I doubt it. But if you're anything like me, you stressed at least a little bit over spending that much on one meal when you could have put it in savings or toward paying down debt. What caused negativity and anxiety in the moment has completely dissipated in your mind because most money you spend will be unimpactful.
But 2013 was a good year for me. So was 2016. And I'm better now than I was in those years. I'm happier, smarter. I've made mistakes in that time, but they're bookended by wonderful experiences I wouldn't be eager to trade. All those days, dollars, moments, plans, and meals both healthy and greasy are all stacked on each other to make the man I am today.
He isn't perfect, but he functions. He tries. He isn't a series of check boxes, nailing each accomplishment with perfect timing. He's more like a rap song: loose, gritty, and with his own one-of-a-kind swagger.
When I think about what to write in these newsletters, I sometimes think about those stereotypical dad phrases. One I've always found comforting is the classic roadtrip maxim. "We're making good time."
I dig that optimism. Yeah, maybe we didn't get out of the driveway as quickly as we wanted to. Maybe we made some unscheduled pit stops. Maybe our passengers annoyed the living crap out of us for most of it. But we're making good time. We're getting there.
A Friday night isn't life attempting to trick you into doing the wrong thing. It's just a Friday night. This is the kind of roadtrip with no wrong turns.
Mantra: Take 60 seconds to close your eyes and repeat this phrase: "I'm making good time."